UV07 Multipurpose Control Handle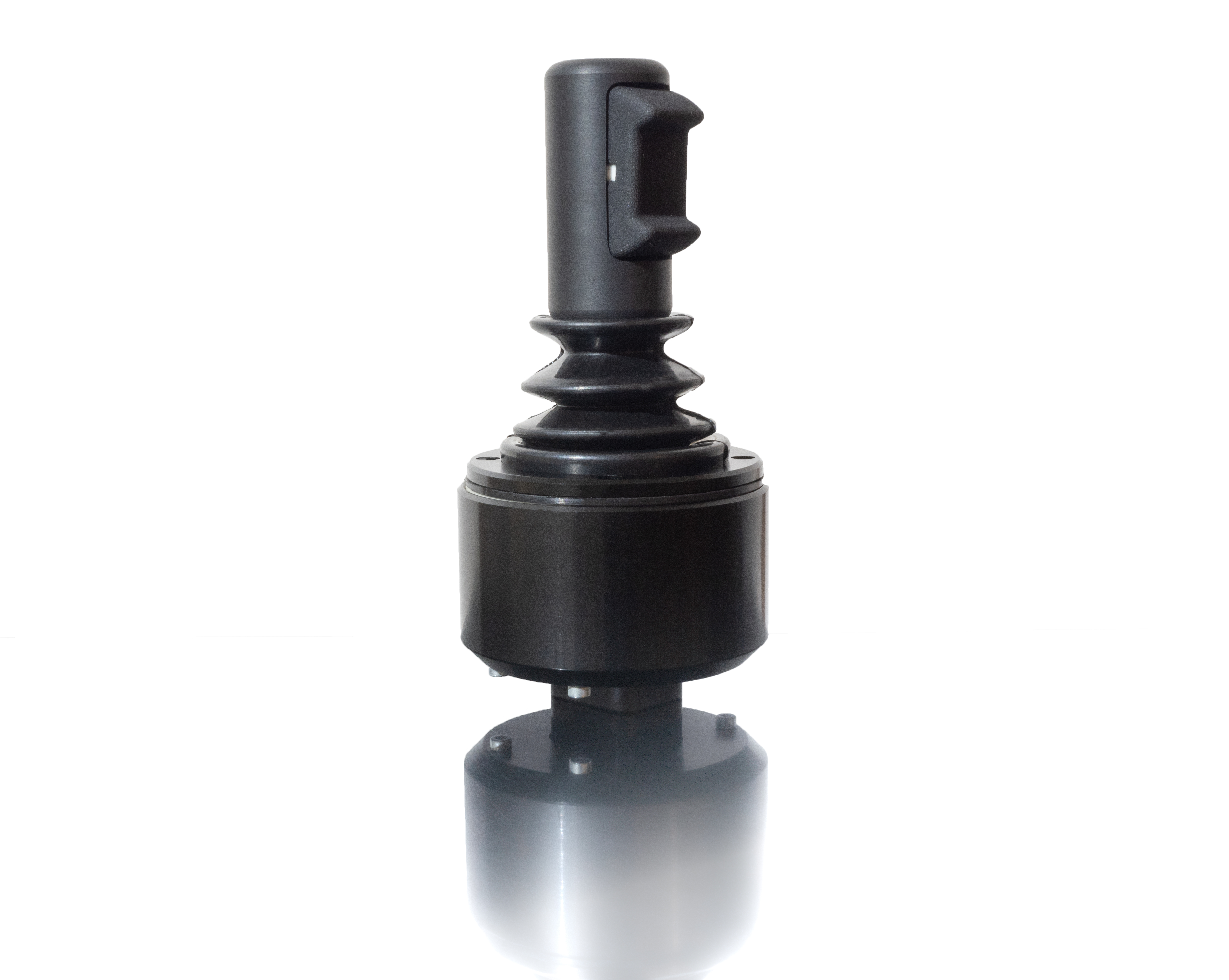 UV07 Control Handle is the heart of UVcan control system. It is not only a joystick. It has all electronics necessary for controlling hydraulic valves built right into it, enclosed with a durable aluminium enclosure. The hydraulic valve's solenoids can be directly connected to UV07, without a need for a separate controller. Thanks to a powerful processor, all outputs are proportional, current controlled closed-loop outputs. By using current-control, UV07 can compensate the differences of temperature, solenoid resistance, and battery voltage variations, resulting in a precise operations in all situations. UV07 can drive any hydraulic valve which is controlled with a high power current, signal PWM, or even CAN-bus controlled valves, regardless of the valve manufacturer. It can also drive commonly used Danfoss PVEM or PVEU valves.
UV07 is meant for a professional use. The position of the joystick is measured with contactless HAL-effect sensors. They are durable and reliable, and since they don't have any mechanical contacts, they won't wear out even under heavy usage.
The electronics are powered by a rock solid, industry standard ARM Cortex-M3 processor, accompanied with 10 proportional solenoid outputs and various input modules, such as analog voltage and current inputs and a temperature sensor input. With these, the UV07 can be used to create any kind of sophisticated vehicle control system with a minimal amount of components.
The UV07 Handle is configured with UV0D touchscreen display. Parameters can be set for up to four operators. Some, but not all, configurable parameters consists of:
Valve solenoid parameters

Minimum current in milliamperes
Maximum current in milliamperes
Acceleration and deceleration in percents
Direction invertion

An "operator" is a matter of subject. Even if the vehicle would be used only by a single driver, he/she can create multiple "operators" for storing different parameters for different use cases of the machine. For example, a forestry crane control system might need to have different settings for the crane depending if a harvester head or a log grapple is attached to the crane.
| | |
| --- | --- |
| Height | 143 mm |
| Width | 76 mm |
| Sensor technology | HAL-effect |
| Supply voltage | 8 - 30 V DC |
| Maximum current per output channel | 2200 mA |
| Axis count | 3 |
| Outputs | 10 current outputs, or 5 ratiometric voltage outputs |
| Output type | Proportional, current controlled (closed-loop) |
| Inputs | 2 Digital voltage inputs, 2 Analog voltage inputs 0-5 V, 1 current input 0-20 mA, 1 PT100 Temperature sensor input |
| Communication protocols | CAN-bus, CANopen protocol |
| IP-rating | IP67 |
| Material | Stainless steel, anodized aluminum and ABS |